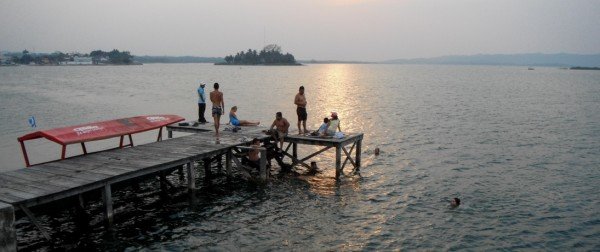 My last stop in Guatemala was Tikal, a Mayan archeological site. Located on Petén region, east side of the country, Tikal is about 8 hours by bus from Antigua. As my trip to the country was short, I decide to fly from Guatemala city to Flores (40min. trip).
Flores, a gateway to visit Tikal, is small and beautiful, a city island crowded with tourists, cafés, bars and hotels. Here the atmosphere is vacation and easygoing traveling. It takes about an hour to surround the island (city) walking.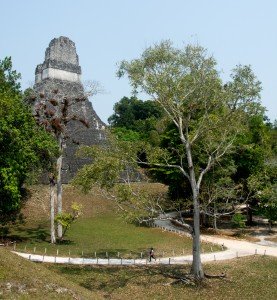 Considered UNESCO World Heritage Site, Tikal is about an hour by bus from Flores. Different from other pre-colombian site I had visited as Teotihuacán and Chichén Itzá that were very hot and dry, Tikal is humid and very green, is in the middle of a tropical forest.
Tikal impressed my by its beauty and gorgeous nature. It used to be one of the major Mayan cities in Americas. I recommend buying the map and follow the tracks to see each temple hidden in the green. The site is huge, impossible to see all in one day. Walk around by myself in this place, imagining the former civilizations that lived there, feel the nature and see the complexity of its constructions is unique.
Being alone and having my own pace to feel the place was good so I did not have to rush to see everything. I stopped for a while on the top of Temple IV, it has a great view from up there. As I have vertigo, it was a challenge for me to be on those narrow steps. Before heading back to Flores, I sat under a Ceiba shade, a sacred tree for the Mayas.  It was beautiful, easy to get why this tree was special for them. Next morning, very early, I left to Belize.
Tikal, Guatemala 2013

Flores, Guatemala 2013

Check out other posts on Central America trip (April 2013):