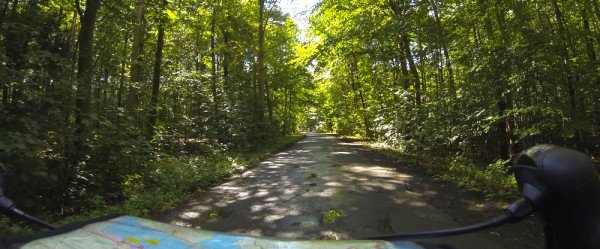 Day 3 route: Tastrup – Bissinge – Hjelm – Skovsøen – Grønsundvej – Stubbekøbin – Grønsund – Hesnaes – Ulslve – Elkenøre Strand – Marielyst
This was the most beautiful day of the cycling in Denmark, first I cycled around Møn island, then I went through a dense forest at Falster forest.
It was very windy in Møn and I got rain on the road. I decided to stopped on the only tree on the way. Getting there I realize there was other two German cyclist waiting for the rain under the tree. About 20 minutes later the rain was gone and the sun was shining.
The bridge between Møn and Bogø was large, about 1 km long. But this time it was easy, I was not afraid to cross it.
A highlight of the day was the cycling on the forest. No cars, no people… and boarding the Baltic sea.
It is worth a quick stop at Hesnæs port to see the fishing boats and enjoy the landscape
I got to Marielyst almost 5pm without having any stop for food or rest, no even a pause for toilet...
Leia Mais... / Read More...