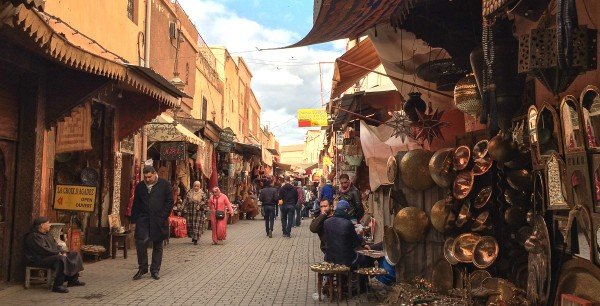 We started our second day in Marrakech visiting the Bahia Palace. Built at the end of the 19th century, the palace is inside the Medina and it's one of the few of its kind. Bahia means "Brilliance" in Arabic and any visitor can see why it was given that name: rooms upon room are filled with beautiful mosaics, intricate ceilings and lamps… It is not very well conserved but it is a photographer's paradise, with its thousand colorful details.
The surrounding area used to be the Jew Quarter. Not so long ago, Morocco had a big Jew community; now what remains are a few brick houses with a slightly different decoration. It's a busy neighborhood, full of artisans and markets.
Nearby are the Saadian Tombs. Dating from the late 16th century, the tombs were built upon and hidden by the next ruling dynasty and discovered in 1917. Like most Marrakech treasures, they are at the end of a narrow alley and hit you with their unexpected beauty.
With cultural needs satisfied but empty stomach...
Leia Mais... / Read More...