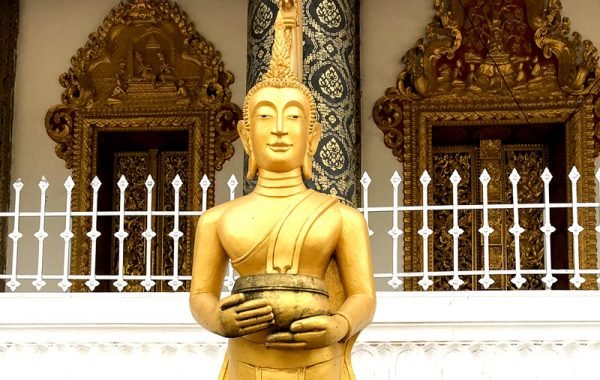 Our first stop on this trip through Asia was Luang Prabang (Lao: ຫລວງ ພະ ບາງ) in Laos. Last year, the holiday trip was chosen by Marcelo, this year was my turn. Of course, I chose places in my favorite region of the world – Southeast Asia.
Luang Prabang is a Buddhist city in northern Laos situated in a valley between two rivers, the Mekong river and Nam Khan river. Interesting activities are not lacking here, several Buddhist temples and waterfalls to visit.
One of the points of interest of the city is the night market with several food options and a huge souvenir fair. They close the main street of the historic center around 6pm to set up the fair. Every night in town, our dinner was over there. The options were numerous, snack bars, barbecue of all kinds, noodles and soups of all varieties. Worth it.
During the day, we spent some time in the city visiting Buddhist temples. The most famous is the Wat Xieng Thong and the Haw Kham Royal Palace Museum. The city is full of small temples, we visited several of them. We also love the Wat Hosian Voravihane. They were all beautiful, lush in gold and with Buddha images and statues. It is common to see Buddhist monks not only in temples but walking around the city, enjoying the scenery, eating something.
Another "must see" of Luang Prabang is to climb the 329 steps to see the sunset from Mount Phou Si. The top of the small hill is a place of important religiousness for the Buddhist monks, it is in the historical center and has a beautiful view of the the Mekong and Nam Kham rivers. The ascent takes about 15 or 20 minutes, as I was still recovering from the broken leg, I made a first stop at Wat Tham Phou Si, a temple halfway. And at the top is the little Wat Chom Si. Upon reaching the top, we discovered that we were not the only ones with that idea, it was crowded with tourists, all with the cameras ready for sunset. As soon as the sun went down, they all left quickly and we could enjoy the scenery calmly. Not to be missed.
[Text and photos by Karla Brunet – 2019]