Cycling in Germany tagged posts
Lenara Verle, my guru for cultural activities in Berlin, told me about the tours organized by Berliner Unterwelten. It is an association focus on the city's underground history and tours. The autumn arrived and this is the last month of the Tour 2 – From Flak Towers to Mountains of Debris. The days I could make it, there was only tour in German. So I invited Lenara to come with me. After all, my German is "reasonable" but hers is very good. See Lenara's log bellow.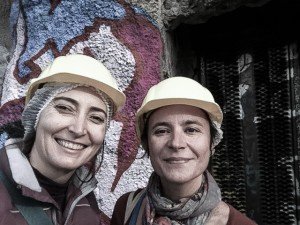 Invited by Errante, I joined a tour inside the ruins of a flak tower in Humboldthain Park. The tour is offered by the Berlin Underground Association, a group that explores many underground structures connected to Berlin's history, including bunkers, tunnels, sewage ducts, pneumatic mail networks and others. Their many volunteers help with digging, cleaning and rehabilitating abandoned spaces, transforming them into small museums and locations for guided tours.
In this tour we visited the one flak tower remaining of thre...
Leia Mais... / Read More...