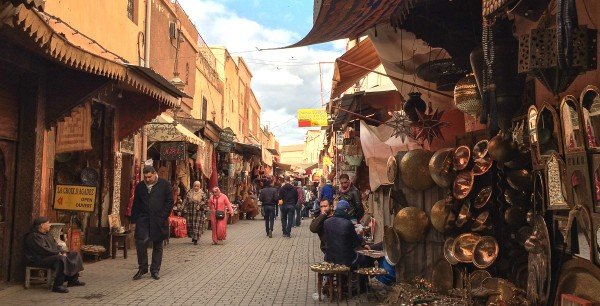 We started our second day in Marrakech visiting the Bahia Palace. Built at the end of the 19th century, the palace is inside the Medina and it's one of the few of its kind. Bahia means "Brilliance" in Arabic and any visitor can see why it was given that name: rooms upon room are filled with beautiful mosaics, intricate ceilings and lamps… It is not very well conserved but it is a photographer's paradise, with its thousand colorful details.
The surrounding area used to be the Jew Quarter. Not so long ago, Morocco had a big Jew community; now what remains are a few brick houses with a slightly different decoration. It's a busy neighborhood, full of artisans and markets.
Nearby are the Saadian Tombs. Dating from the late 16th century, the tombs were built upon and hidden by the next ruling dynasty and discovered in 1917. Like most Marrakech treasures, they are at the end of a narrow alley and hit you with their unexpected beauty.
With cultural needs satisfied but empty stomachs, our next move would be to look for a place to eat. We ate in a restaurant that looked like a tourist trap but was full of locals. I finally got to eat pastilla, a chicken pie with almonds and covered with sugar and cinnamon that I was looking forward to taste for a long time. Rich, tasty and very different. Karla, not so adventurous with her food, ate a shawarma. The restaurant had a nice view of a very busy street and we sat there for a while. After that, we walked through the markets and drank mint tea with pastries.
Our last thing to do in Marrakech it would be really enjoy Jemaa El Fna. We got there before sunset, so Karla could take nice pictures and then we walked through the food stalls, looking for something that interested us. And we did find it! Sheep's head may not sound appetizing but it was really great, one of the tenderest meat I've ever eaten. In a way, it summarized the whole Marrakech experience: authentic, a little shocking, exciting, surprising and ultimately very satisfying.
Sponsored by:
[Text by Òscar Buenafuente/Photos by Karla Brunet]