On the third day of diving in Utila we went to Paraiso and Sting Ray Point dive sites. Both had beautiful coral formations and great visibility. In this dive day, one of the highlights was a beautiful turtle that was there, just waiting for me and we went for a swim together.
The other highlight was a spotted eagle ray, it was far away but I could get closer and swim with it. As it was its habitat and not mine, so the ray won the race and left me behind. I had seen many rays when diving, but this was the first time I could get close to a spotted eagle ray. And that is what fascinates me in diving, even though you dive a lot, there is always something new to see, a new feeling… The underwater world is full of surprises.
1st dive: Paraiso: http://www.diveboard.com/karla.brunet/D1qHNAp
Date: 2013-04-25 – 08:46 Max Depth: 21.5m Duration: 56mins
2nd dive: Sting Ray Point: http://www.diveboard.com/karla.brunet/D1tw1rI
Date: 2013-04-25 – 10:30 Max Depth: 24.8m Duration: 52m
Tartaruga e arraia em Utila from Karla Brunet on Vimeo.
Sponsored by: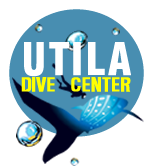 See here other posts on Honduras, April 2013: