This was my last dive day in Utila, we went to Raggedy Cay and Black Bird Point dive sites. On the first dive, I saw a turtle swimming into the deep sea. And as some diver friends, Marisa and Jorge, nicknamed me after the turtles I chase, I had to be myself and follow it. Since it was going fast, I descend looking at my diver computer all the time. Right in the beginning I realize an young guy is frenetically following me and the turtle, at the same time I see our divemaster (Suzanne Eggerding, Padi Dive Instructor) pulling him back up. I make an "ok" sign to her and continued. Luckily the turtle did not go too deep and stopped at 32m, so I could get close and take a photo. Afterwards, in the boat I found out that the guy following me was an open water diver and that was why he was not allowed to go deeper with me.
The second dive was the one I liked the most, not for its fauna but for its place, even though I had a great time observing some squids swim and change colors depending of their environment. But I am passionate for places, spaces that make me travel, scape from my routine. In art I prefer installations that create this magic imaginary space on my mind. By the end of the dive, on the shallow area, the sand ground was full of some formations that looked like roses, it was like a garden of roses, beautiful. This place reminded me of another place I did snorkel in Los Roques where the sea ground wall full of sea stars. Magic places!
And as this was our last day of diving in Utila and we did not had seen a whale-shark yet, we bothered our divemaster saying it was her last chance to satisfy our desire for whale-shark. Many of us were leaving Utila next morning. So, Suzanne promised us that we were going to see a whale-shark in this dive. By the end of the dive, she got a rubber whale-shark she had hidden in her vest. It was funny, we all took photos with it. Yes, Suzanne fulfilled her promise and we had so much fun.  We finished the day drinking and celebrating the great week of diving we had and already with a bit of nostalgia that it was time to go home.
1st dive: Raggedy Cay: http://www.diveboard.com/karla.brunet/D1iy3nt
Date: 2013-04-26 – 08:39 Max Depth: 32.6m Duration: 42mins
2nd dive: Black Bird Point: http://www.diveboard.com/karla.brunet/D1mciUM
Date: 2013-04-26 – 10:27 Max Depth: 19.2m Duration: 48mins
Diving in Utila, Honduras 2013 from Karla Brunet on Vimeo.
Last dive in Utila from Karla Brunet on Vimeo.
Sponsored by: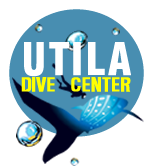 See also some other posts on Honduras, April 2013: