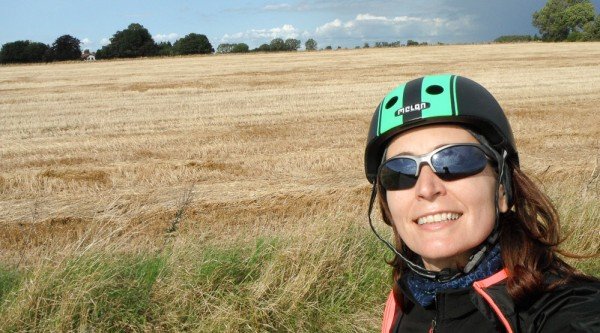 Day 1 route: Copenhague – Greve Strand – Solrød Strand – Køge – Strøby – Magleby – Hollug – Sigerslev – Stevns Klint – Højerup Rødvig
I left the hotel at 8.30am. The cycling lanes were completely crowded and everybody was cycling very fast that I couldn't stop to read the name of the streets. I got lost a bit,  went out on the wrong bridge and had go back.
It took more than one hour to get out of Copenhagen. In town there was not signs of the bicycle routes like in Berlin. I took the wrong way twice and had to stop a few time to look on the gps.
Scooter and motorcycles were using the cycling lane. I thought it was strange but maybe it was legal. I saw them on Copenhagen and later again in Køge. I believe slow motorcycle were allowed on the bike lane based on a sign I saw on the road.
The wind around the island Amager was very strong, hard to cycle. This way was not on the official track from B-KO, I chose for it once I got lost. Despite of the wind I recommend because the landscape is beautiful.
The way around Brøndby and Vallensbaek Strand was lovely. Always around the sea and there was no cars around.
Køge is small and charming with its center square full of cafes. There I stopped to drink some coffee and warm myself on a closed place. I got a bit lost to get out of the city, there was no signs. Great I had gps to go back on track. During the trip in Denmark I had gps but not 3G, but it was easy to manage the maps offline.
During the whole cycling day it was cloudy, with huge dark clouds. The good thing is the they were moving fast towards the direction of the wind, that is, away from me.
I had a lot of head wind, really a lot… Sometimes side wind. That means south and southwest wind the whole trip. It was like cycling up the whole time.
After 80km I stopped at Stevns Klint lighthouse. The place was gorgeous with cliffs and blue dark sea bellow. I was very happy, a few kilometers more it was my hotel.
I arrived in Rødvig on late afternoon. Beautiful small town, warm bath, comfortable hotel, all perfect. I had dinner on a snack bar at the port watching the boats and the sunset colors on the sky.
Day total: 88.10km – 7h:07m (gpx)
See the posts of each stage: